The Room Installations that came about in the time between 1988 and 1999, were labyrinths and corridors – a sculpture from the outside, walkable inside. The passerby became the protagonist in the process.
We walk slowly if we want to remember, and we walk fast to forget.
The installation Hamburg – Spanien. The trip had six doors to be opened only from one side, making a turning back impossible. In the installation Der Rote Faden | Ariadne's thread Künstlerhaus Bethanien Berlin, the cabinets functioned like film stills: same elements, same lighting, only at different locations. In the underground bunker Stresemannstraße Berlin, I watched people walking through a space that was unknown to them. Luminescent paint on walls and ceilings in the installation Bunker International interfered with the functionality of light to illuminate the path.
Die Rauminstallationen, die zwischen 1988 und 1999 entstanden, sind Labyrinthe und gebaute Wege – von außen Skulptur, von innen zu benutzen. Die Passanten werden zu Protagonisten der Kunst.
Wir gehen langsam, wenn wir etwas erinnern und schnell, wenn wir etwas vergessen wollen.
In der Installation Hamburg-Spanien. Die Reise gab es 6 Türen, die man nur von einer Seite öffnen konnte, eine Umkehr war ausgeschlossen. In der Installation Der Rote Faden im Künstlerhaus Bethanien Berlin wirkten die Räume wie Filmstandbilder – in jedem Raum die gleichen Elemente, nur an unterschiedlichen Stellen.
Im Tiefbunker unter der Stresemannstraße konnte ich zum erstenmal beobachten, wie Menschen durch einen ihnen unbekannten Raum gehen. In der Lichtinstallation Bunker International hatte die nachleuchtende Farbe auf Wänden und Decken dem Licht seine wegweisende Funktion genommen.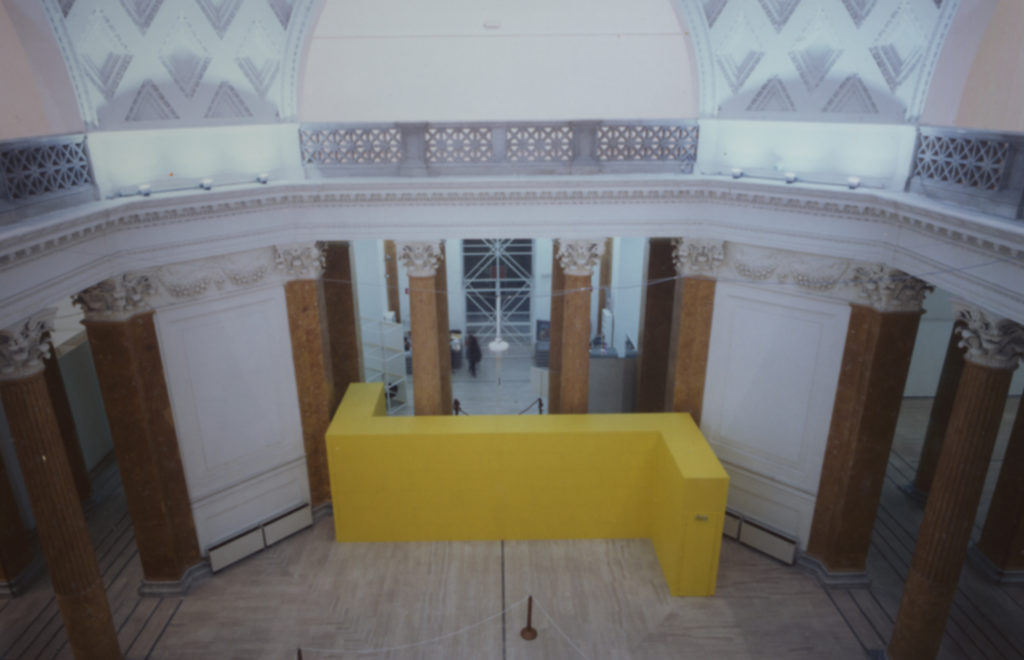 Entrata | L'ordine delle cose Palazzo Delle Esposiziono Rom 1991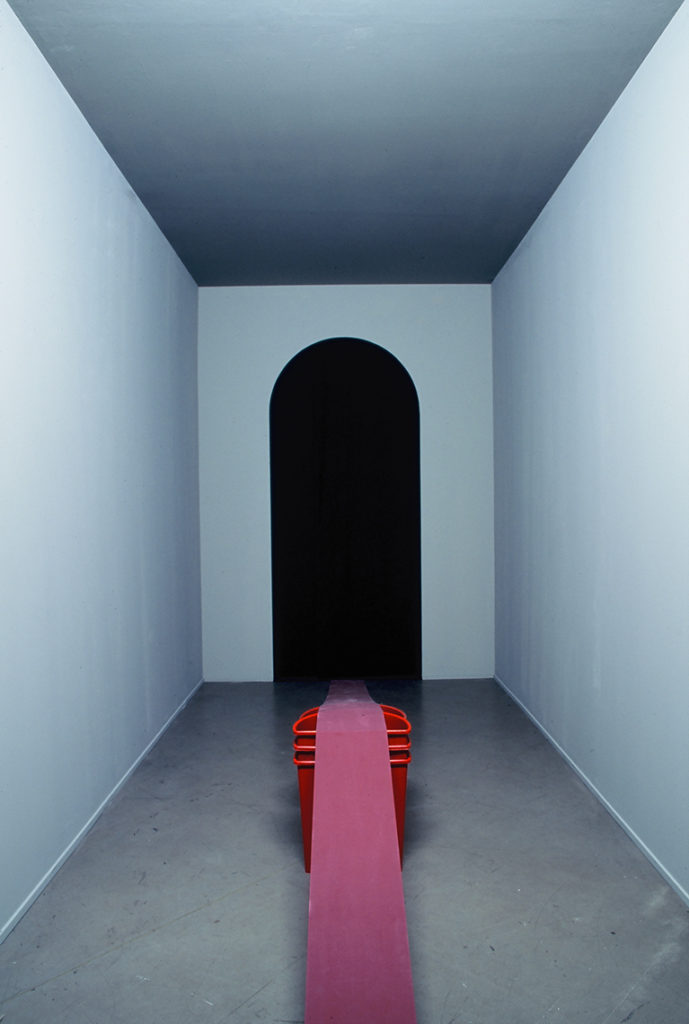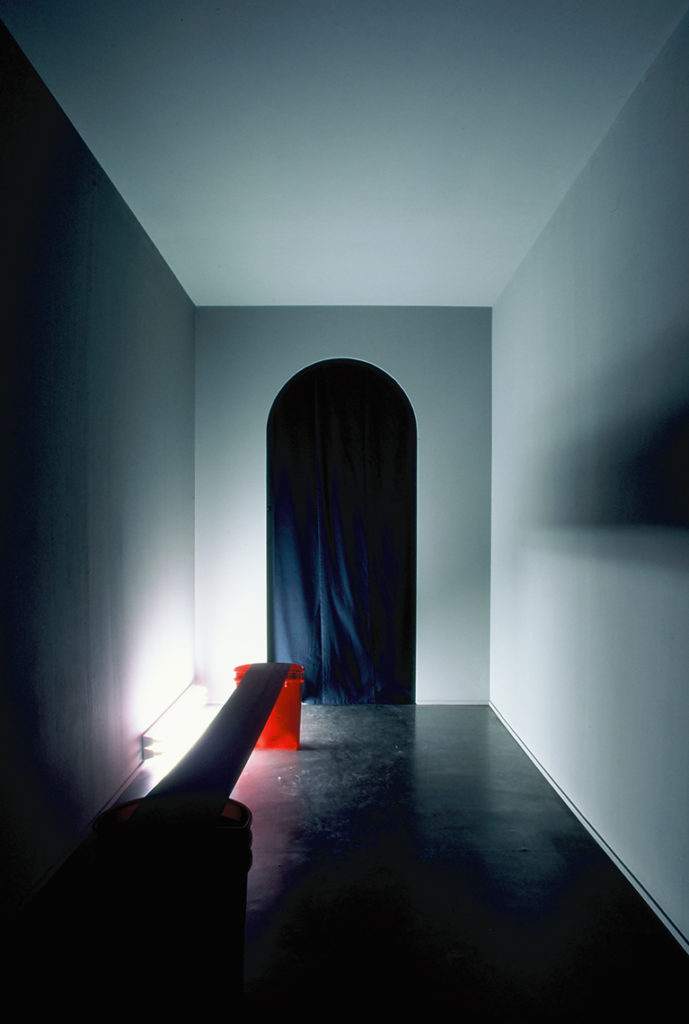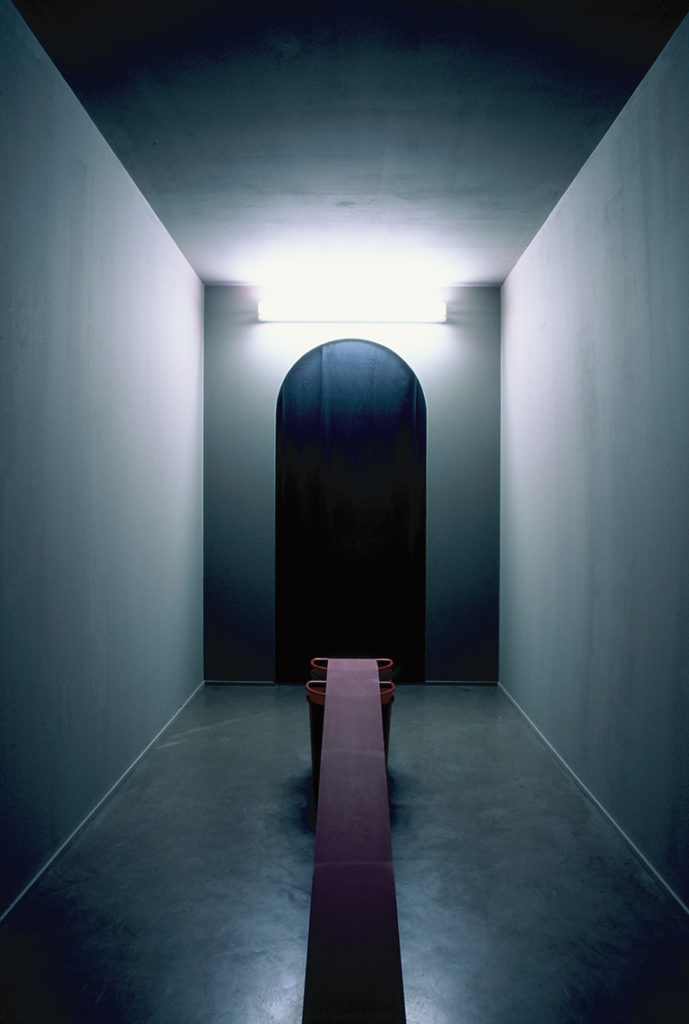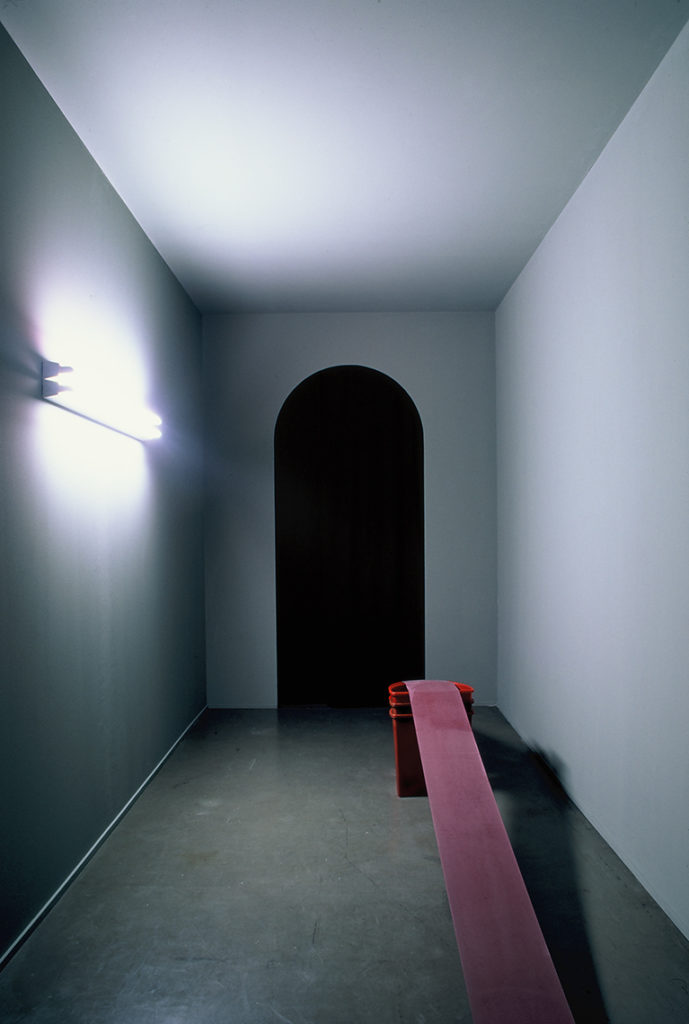 Der Rote Faden | Ariadne's thread | Room Installation Künstlerhaus Bethanien Berlin 1991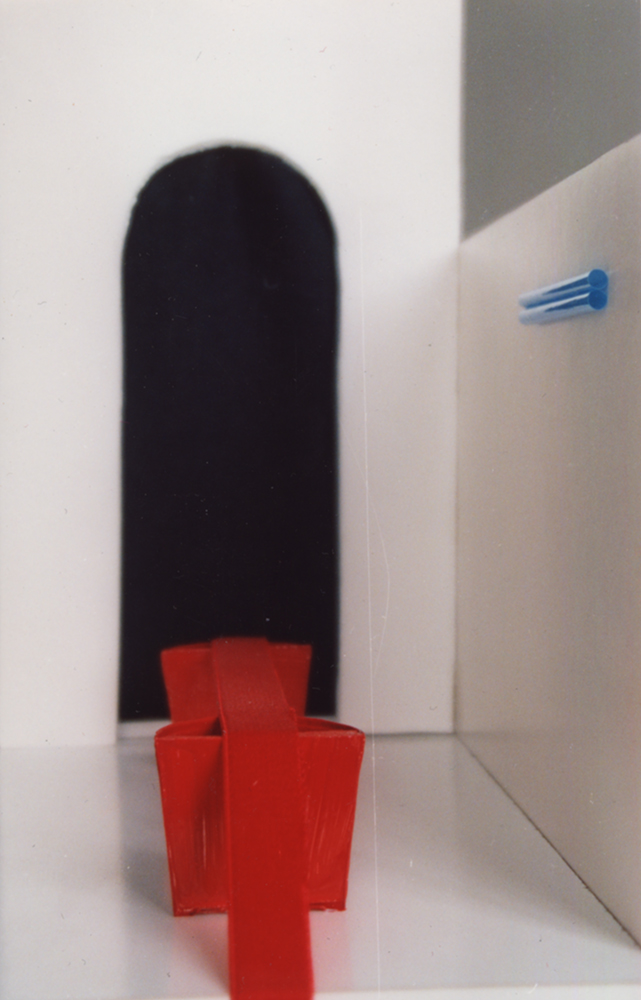 Modelle und Zeichnungen | Models and Drawings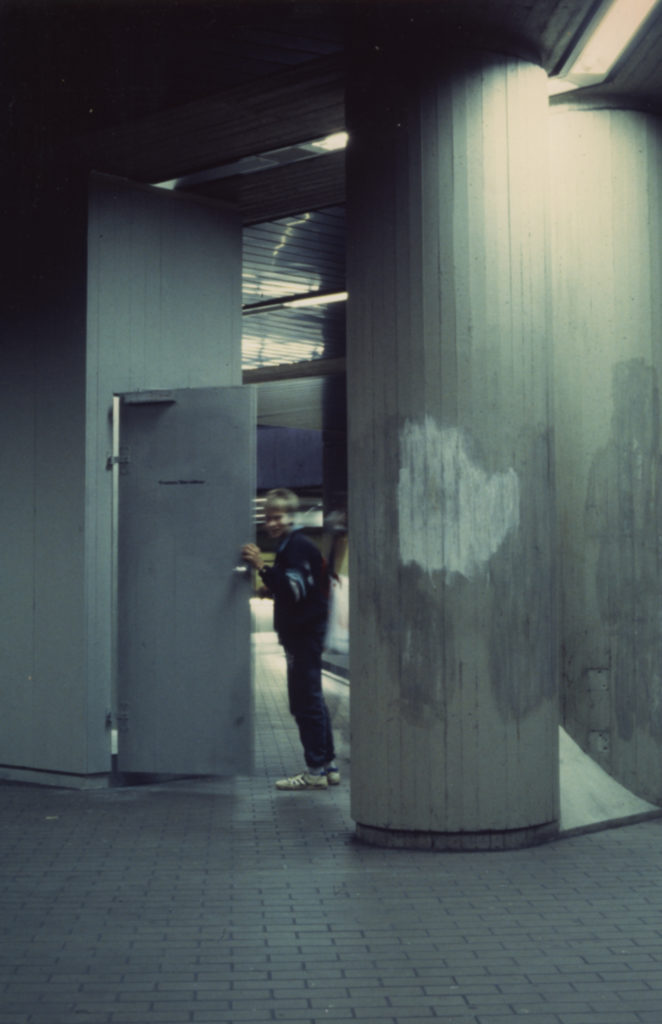 Rauminstallationen | Room Installations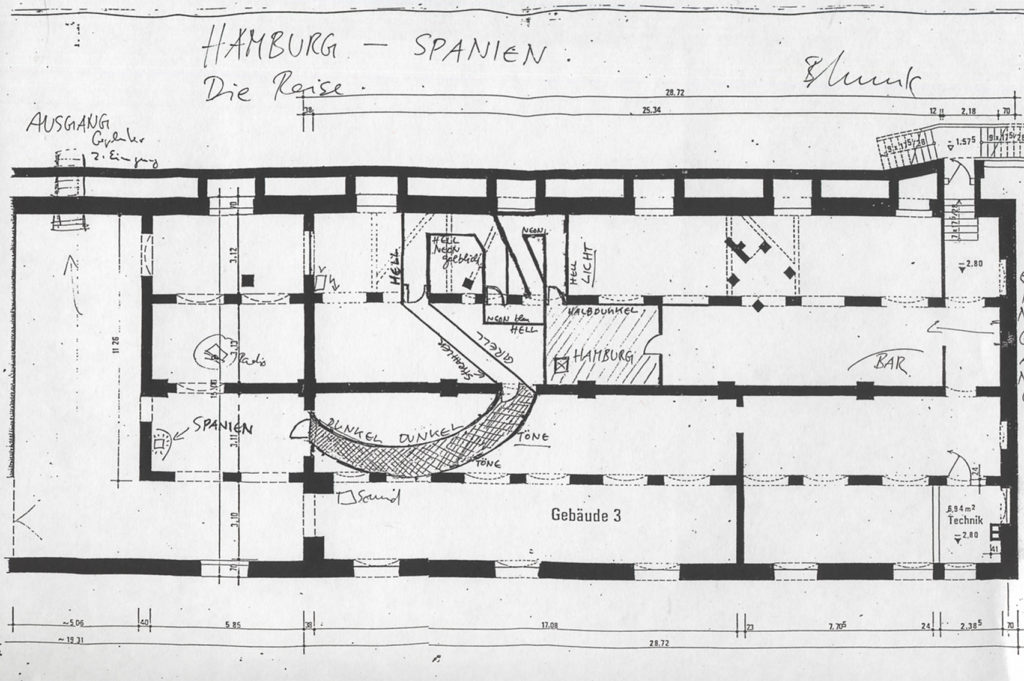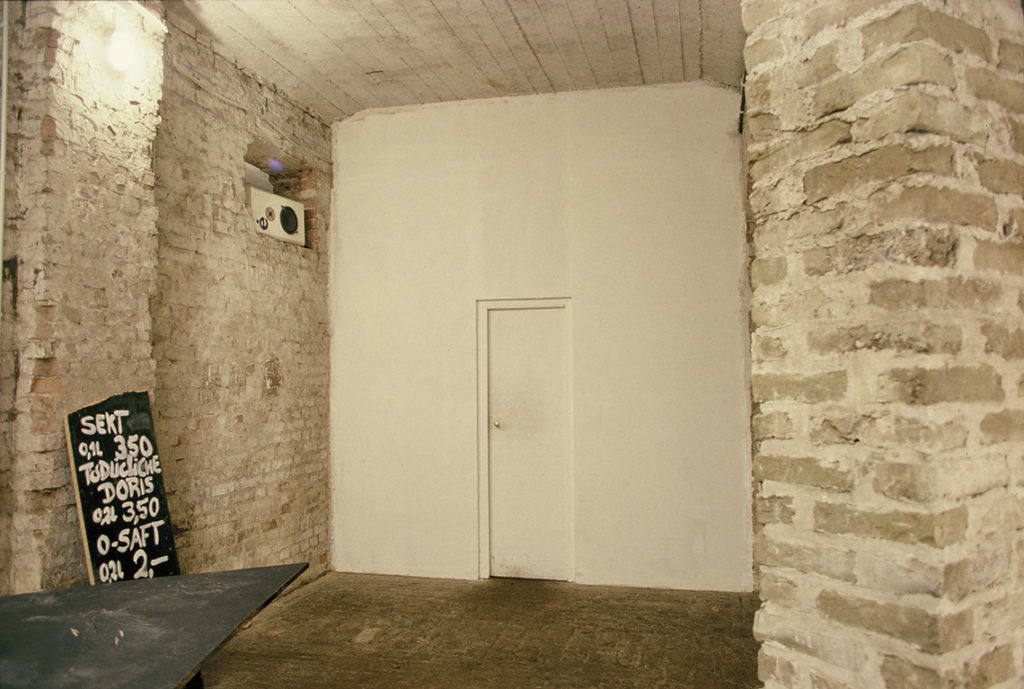 Hamburg – Spanien. Die Reise | Hamburg – Spanien. The trip | Room Installation in a cellar of the former Görlitzer Bahnhof Berlin 1988
The Making of Hamburg – Spanien. Die Reise
Bunker International | Light Installation in the underground bunker Stresemannstraße Berlin 1987