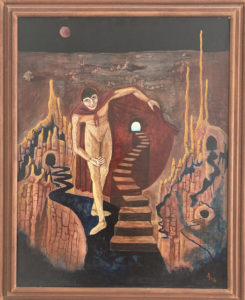 when I was fifteen I learned how to paint with oil and tempera in the studio of an artist in Heidelberg. In a corner I had my easel and my paint, and I made one painting a month, completely neglecting school.
I wanted to become an artist.
Why Art?
At age sixteen I painted the answer to this question – the promise to escape a wasted land, and future, up to a place with a view to the sea, where I could breathe freely.
I wanted to be an artist, although the magician in the painting wears a Looney Tunes smirk on his face.
At age 19 the frames around my paintings vanished, and when I reflected on the exemplary model for a woman's life, it was definitly not the mother role I was looking for. That was the moment I thought: Off to Berlin!
---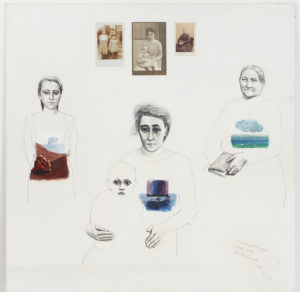 mit fünfzehn lernte ich im Atelier eines Heidelberger Malers die traditionelle Eitempera – und Öl- Malerei. In einer Ecke des Studios hatte ich meine Staffelei und meine Farben, und ich malte an den Nachmittagen ein Bild pro Monat, während ich die Schularbeiten vernachlässigte. Ich wollte Künstlerin werden.
Warum Kunst?
Mit 16 malte ich die Antwort auf diese Frage – das Versprechen – raus aus dem wüsten Land und weg vom Pfad in eine öde Zukunft, hinaus zu einem Blick auf's Meer, wo ich Klarheit finden würde. Ich wollte Künstlerin werden, auch wenn der Zauberer im Bild ein sehr schräges Grinsen im Gesicht hat.
Mit 19 verschwanden die Rahmen um meine Bilder, und als ich die Mutmaßungen über eine Unbekannte anstellte, sympathisierte ich definitiv nicht mit der Mutterrolle. Das war die Zeit, als ich beschloss: Auf nach Berlin.
---
Exibitions (excerpt)
2023
NO FUTURE ON MONDAYS
SCOTTY, Berlin
2022
Über die Zeichnung hinaus (g)
ZAK, Berlin
2021
Zeichnungen, Berlin Achtziger Jahre
Galerie Jahn und Jahn, München
Janssen ANIMIERT (g)
group show curated by Lines Fiction
5 Positionen | 5 Filme
Horst Janssen Museum Oldenburg
2019
Fragment (g)
Guardini Galerie
Berlin
2018
Das bewegte Bild – Das Bild bewegt
Raum und Struktur (e) with Norbert Trummer
basement
Wien / Vienna
2017
Fiction Or Not (e) with Malte Spohr
Galerie Inga Kondeyne
2016
6 aus 165 (g)
oqbo, Raum für Bild Wort und Ton
nekton II (g)
Laura Mars Galerie, Berlin
Zeichnungsräume | Drawing Rooms
Hamburger Kunsthalle, Hamburg
Move the Line, Zeichnung & Computeranimation
Horst Janssen Museum, Oldenburg (g Lines Fiction offline)
2014
feedback
Galerie Weißer Elefant, Berlin (e)
2012
Im Orbital, Drawing & Animation (e)
Galerie Fruehsorge Contemporary Drawings, Berlin
in combination with Akademie der Künste, Berlin
2011
Lines Fiction, Drawing & Animation (g Lines Fiction offline)
Galerie Fruehsorge Contemporary Drawings, Berlin
2010
in der Schwebe | in abeyance Drawing & Animation
Galerie Elly Brose-Eiermann, Dresden (e)
2008
Strictly Berlin Between Fiction and Fact,
Media art from Berlin, media in motion – GdK, Berlin (g)
2007
Strictly Berlin Targets of Opportunity,
Medienkunst aus Berlin, media in motion – GdK, Berlin (g)
2006
Strictly Berlin 2000-2006,
Media art from Berlin,, media in motion – GdK, Berlin (g)
2005
wysiwyg, Computer animation
Studio A Museum gegenstandsfreier Kunst, Otterndorf (e)
2003
unwägbar, Computer animation and Drawing
Galerie Seitz & Partner, Berlin (e)
2002
FilmKunst – Tage Ulm, Medienoperative, Ulm / D
NonStop Video Window International, Flashanimation "animations", S.A.A.S., Shoot, Kopenhagen / Dänemark (g)
2000
art kino, Frankfurt / D, Videobeitrag "thumb wars"
1999
Purim, Projekt Pat Binder, Foto/Graphik Galerie Käthe Kollwitz, Berlin (e)
verschwunden | disappeared Verborgene Orte | Hidden Places:
Brückenköpfe Erpel – Remagen, Elisabeth Montag Stiftung, Bonn (g)
1998
speech + talk, Kunstfabrik Potsdam, Potsdam (e)
1997
Current Undercurrent: Working in Brooklyn Brooklyn Museum of Art, New York / USA (g)
Bizarro World Spot, Gramercy International Art Fair New York (g)
1996
The Missing Link Drawing in Berlin
Klaus Fischer Galerie, Berlin (g)
1995
Fragen | Questions ACC-Galerie, Weimar (e)
1994
Cover Up, Goethe House, Goethe Institut New York / USA (e)
Fragen | Questions Kunst – Werke, Berlin (e)
Group Show American Fine Arts, New York (g)
1992
Science Times, P.S.1 Contemporary Art Center, New York / USA (e)
1991
Entrata, L´ordine delle cose, Giovani artisti da Berlino, Palazzo Delle Esposizioni,
Rom / Italien (g)
Der Rote Faden, Künstlerhaus Bethanien, Berlin (e)
Spy-Spy, Interferenzen, Kunst aus Westberlin 1960-1990,
Riga / Lettland,
St. Petersburg / Russland (g)
Entrance-Entrance A Double Mentality, Sezon Museum, Tokio / Japan,
reist durch Japan, Hongkong, Singapur (g)
1988
Hamburg-Spanien. Die Reise
Raminstallation im Keller unter dem ehemaligen Görlitzer Bahnhof Berlin (e)
1987
Bunker International
Lichtinstallation im Tiefbunker unter der Stresemannstraße Berlin (g)

e – solo exhibition
g – group exhibition
Biography
1960 born in München, raised in Heidelberg
1980 Study at the Universität der Künste, Berlin
1985/86 Study at the Slade School of Fine Art, London
1986 Master at the UdK Berlin with Professor Shinkichi Tajiri
1992 – 1999 lives in New York and Berlin
2011 started the online project Lines Fiction on linesfiction.de
from 2001
teaching assignment Digital Media
Department Communication Design | Fachhbereich für Gestaltung der HTW Berlin
2008
teaching assignment Drawing Department Art & Design | Hochschule für Künste Bremen
2009
teaching assignment Moving Image Department Art & Design | Hochschule für Künste Bremen
Grants and Awards:
2005
Book project Hundert Zeichnungen | One Hundred Drawings Weidle Verlag, Bonn / Stiftung Kunstfonds
2005
Multimedia Transfer Karlsruhe / Universität Karlsruhe
mit LogoGo www.logogo.org
Finalists in the contest
(Annika Brinkmann, Anne-Maria Krekow, Yvonne Prätzel, Bettina Munk)
1995
Scholarship | Senatsverwaltung für Kulturelle Angelegenheiten Berlin
1992/93
P.S.1 Contemporary Art Center – Grant for New York
| Senatsverwaltung für Kulturelle Angelegenheiten Berlin
1990/91
Atelieraufenthalt | Grant for Künstlerhaus Bethanien, Berlin
1988
Scholarship | Senatsverwaltung für Kulturelle Angelegenheiten Berlin
Publications:
• Bunker International in: Niemandsland, Heft 6 Nishen 1988
• Transfer – Kunst im öffentlichen Raum, Hannover 1989
• De Fabriek 1988-1991 Boek V
• Laden für Nichts 1990
• L'ordine Delle Cose, Palazzo Delle Esposizioni Roma, Edizioni Carte Segrete 1991
• 1 m Zeit, Künstlerhaus Bethanien Berlin 1991
• INTERFERENZEN Kunst aus Westberlin 1960 – 1990, Nishen NGBK 1991
• 1,2,3 Wewerka Weiss & Galerie 1991
• Berlin Art Scene – A Double Mentality, The Yomiuri Shimbun Tokyo 1991
• Berlin Art Scene – A Double Mentality, Goethe Institut Hong Kong 1993
• National and International Studio Programs 1992 – 1993, P.S.1 Museum The Clocktower
• ACC Die frühen Jahre 1988 > 2011
• Max Pechstein Förderpreis der Stadt Zwickau 1995, Städtisches Museum Zwickau 1995
• TIME CAPSULE A concise Ecyclopedia by Women Artists, edited by Robin Kahn, Creative Time NY 1995
• Bettina Munk (new work New York, including an interview with Heinz Bude) 1998
• Verborgene Orte: Brückenköpfe Erpel-Remagen 1998, Montag Stiftung Bildende Kunst
%bullet; Wer hat Angst vor Roger Wittaker, CD Freunde Aktueller Kunst 2001
• Bettina Munk: Hundert Zeichnungen | One Hundred Drawings, Gefördert duch die Stiftung Kunstfonds, Weidle Verlag 2005
• Purim 1999 in: Foto/Graphik Galerie Käthe Kollwitz | Pat Binder 2005
• LogoGo – An Approach to the Design of Girl-Specific Educational Software, in: Gender Designs IT, VS Verlag für Sozialwissenschaften 2007
• Farblos Zeichnungen zur Kälte, Kunst und Kultur Alte Schule Baruth 2011
• Präsenz 2014, galerie weisser elefant
• EINE LINIE IST EINE LINIE IST EINE LINIE, Galerie Pankow 2014
• Bettina Munk feedback (on occasion of the exhibition feedback, galerie weisser elefant) 2014
• Bettina Munk in: Künstler – Kritisches Lexikon der Gegenwartskunst, 106 issue 10, II. Quartal 2014, by Carmela Thiele
• Move the Line, Lines Fiction Offline, Horst Janssen Museum Oldenburg 2016
• Zeichnungsräume | Drawing Rooms – Positionen Zeitgenössischer Graphik, Hamburger Kunsthalle, Hamburg 2016 | 2017
• Lines Fiction in der Hamburger Kunsthalle, DVD 2017
• Fragment-Guardini Galerie, Schriftenreihe Band 6 Zum Zufall – Willms Neuhaus Stiftung 2019
• AUFPRALL, Bude Munk Wieland, Roman Hanser Verlag München 2020
Publications (Excerpt):
2019
Fragment Guardini Galerie,
Schriftenreihe Band 6 Zum Zufall – Willms Neuhaus Stiftung
2017
Lines Fiction in der Hamburger Kunsthalle – DVD
2016
Drawing Rooms | Zeichenräume
Exhibition catalogue Hamburger Kunsthalle, Hamburg
2015
Move the Line
Ausstellungskatalog Horst Janssen Museum, Oldenburg
2014
Bettina Munk in Künstler – Kritisches Lexikon der Gegenwartskunst
Ausgabe 106, Heft 10, II. Quartal 2014, Carmela Thiele
2007
LogoGo – An Approach to the Design of Girl-Specific Educational Software
in: Gender Designs IT, VS Verlag
2005
Hundert Zeichnungen | One Hundred Drawings Weidle Verlag Bonn
Work in public collections:
Regierungspräsidium Karlsruhe
Kupferstichkabinett der Staatlichen Museen zu Berlin
Sammlung des Deutschen Bundestages
Kunsthalle Hamburg